The education industry is facing a shortage of top-quality teachers, professors and other professionals, and the recent pandemic has only magnified that need.
Visa sponsorship is an option that schools and universities are increasingly leveraging to meet this ever-growing demand, which was the topic of Garfinkel Immigration Law Firm's latest webinar.
The event was hosted by Partner William R. Hummel on Thursday, Sept. 28 from noon to 1 p.m. and was entitled "Teacher Shortages: Are International Hires a Solution?"
Hummel's presentation was intended for education workers, including teachers, university professors as well as managers/employers in the education industry. The presentation touched on:
Nonimmigrant visa classifications: The most common nonimmigrant visa classifications in the education industry include F-1 Student (Degree Program), J-1 Exchange Visitor (Exchange Teachers), H-1B Specialty Occupation, TN NAFTA Professional and O-1 Extraordinary Ability.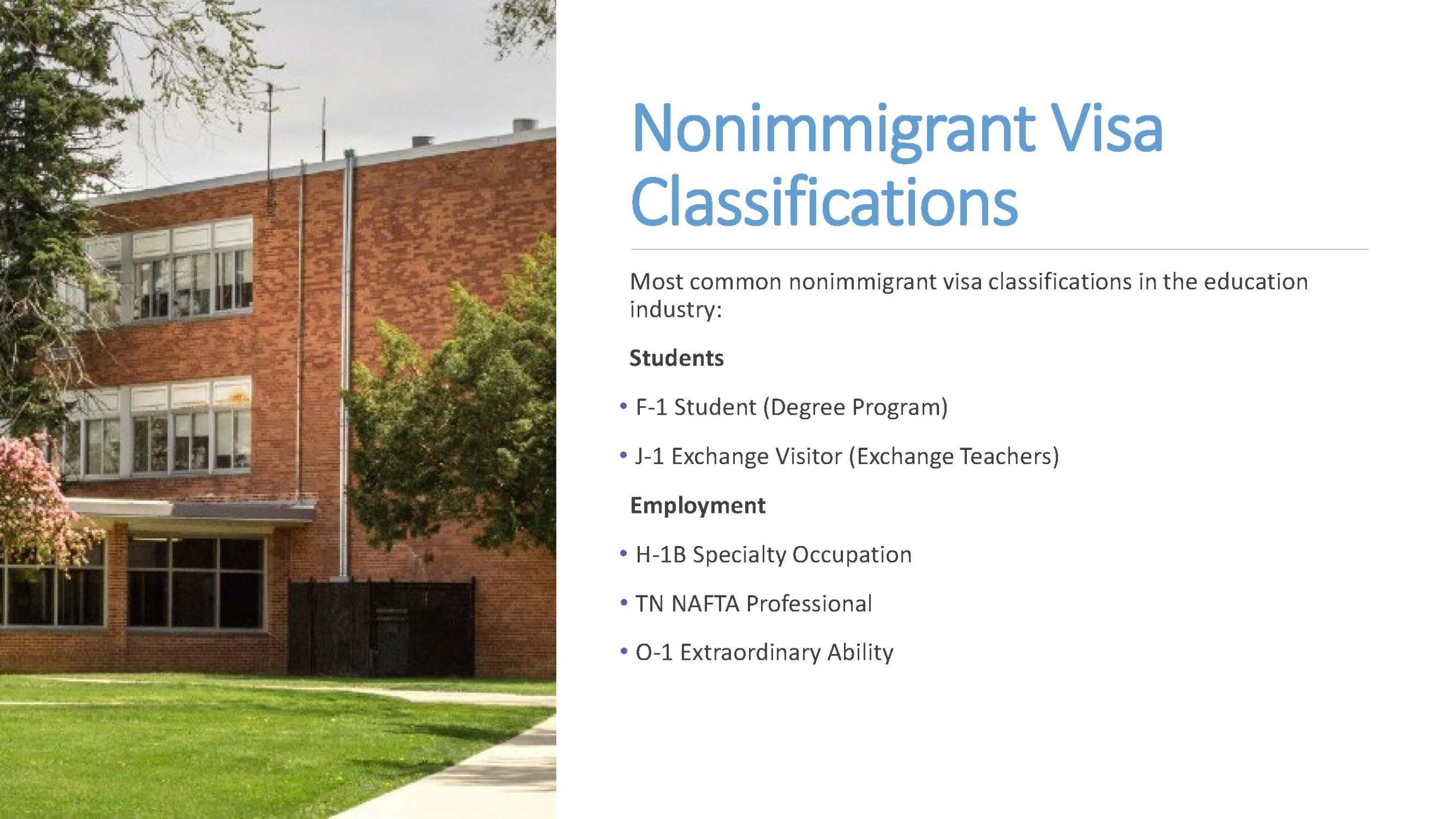 Employment-based nonimmigrant visas: Allow foreign nationals to work in the U.S. The visa is tied to the employer and the employer must sponsor. They may be position-specific and location-specific. Generally, foreign nationals can apply from within the U.S. or through a U.S. consulate abroad.
H-1B specialty occupation work visa: The position must require a bachelor's degree or equivalent of a U.S. bachelor's degree. The foreign national must possess the necessary degree or equivalent degree, which for educators requires:
The degree to relate to the job offer
Eligibility for Licensure: For public school teachers
The employer to pay the "required wage"
H-1B cap-exempt: There are 85,000 total H-1Bs available per fiscal year. United States Citizenship and Immigration Services (USCIS) conducts a lottery when demand is higher than 85,000. Demand in FY2024 exceeded the 85,000 total. Certain institutions and foreign nationals are exempt from this "cap" and may be eligible to file an H-1B outside of the cap. Beneficiaries who are employed by the below are usually "cap-exempt:"
Institutions of higher education
Nonprofits related to or affiliated with an institution of higher education (usually via a written agreement)
Nonprofit research organizations or a governmental research organization
O-1 extraordinary ability: For foreign nationals exemplifying extraordinary ability in their field. Must show receipt of major, internationally recognized award or meet at least three of the criteria listed by USCIS. Can be approved for initial stay of three years which is extendable, indefinitely, in one-year increments.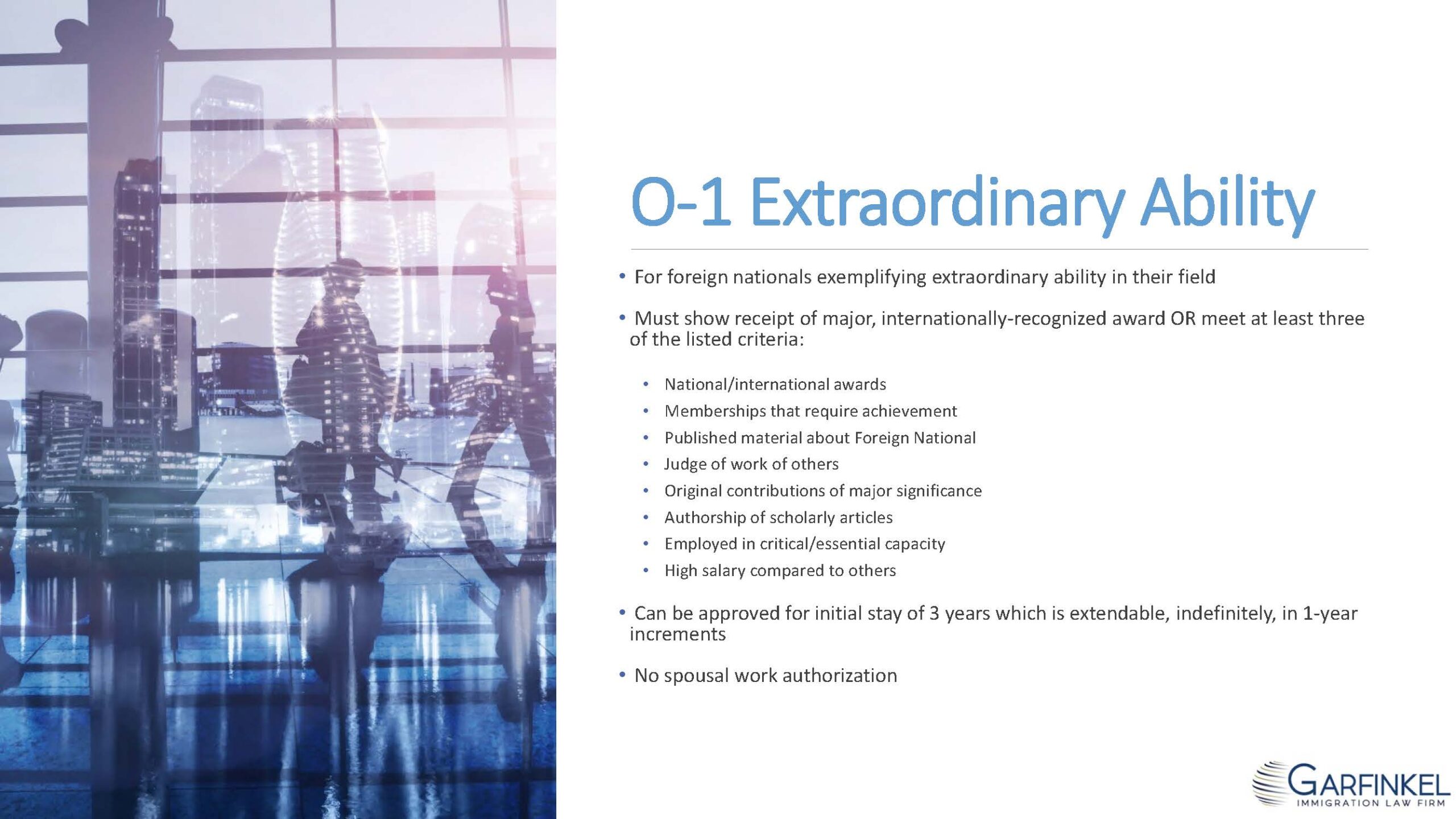 The Green Card Process: There are five ways to apply for a green card based on an offer of employment:
EB-1: Priority workers (including outstanding researchers and professors)
EB-2: Advanced degree professionals and FNs of exceptional ability
EB-3: Professionals, skilled and unskilled workers
EB-4: Special immigrants
EB-5: Employment creation
Most educators are eligible under the EB-1, EB-2 or EB-3 category.
Please contact the attorneys at Garfinkel Immigration Law Firm with questions or to learn more about nonimmigrant work visa and green card options for educators.
Upcoming webinar
Thursday, Nov. 2: The National Interest Waiver (NIW) and other visa options for STEM graduates (Noon – 1 p.m.)