Many healthcare workers, such as physicians, first enter the U.S. on a J-1 visa for training and are subsequently faced with a two-year home residency requirement before they are eligible to change to certain visa categories or lawful permanent residence.
However, there are some creative strategies available for J-1 visa holders to obtain a waiver of the home residency requirement, which was the topic of the final webinar in Garfinkel Immigration Law Firm's "Immigration Solutions for Healthcare Workers" series.
The event was hosted by Partners Meredith W. Barnette as well as Colleen F. Molner on Wednesday, Aug. 9 and was entitled "But I Don't Want to go Home!" Waiving the Home Residency Requirement (Conrad 30 J-1 Waivers and More).
The Partners' presentation was intended for physicians, managers, employers as well as other J-1 visa holders in the healthcare industry and touched on:
The J-1 visa program. A majority of physicians enter the U.S. pursuant to the J-1 visa program to pursue graduate medical training, such as residency and fellowship. This nonimmigrant visa category is available for "exchange visitors" whose intention is to return to their home country with a specific skill set and a better understanding of their professional field in the United States. Foreign nationals can usually train in the U.S. for up to seven years while pursuing graduate medical training.
The 212(e) Home Residency Requirement.  This provision mandates foreign national physicians with J-1 visas return to their home country for at least a two-year period before changing to certain nonimmigrant visa categories — enabling them to work in the U.S. — or seeking permanent residency in the United States.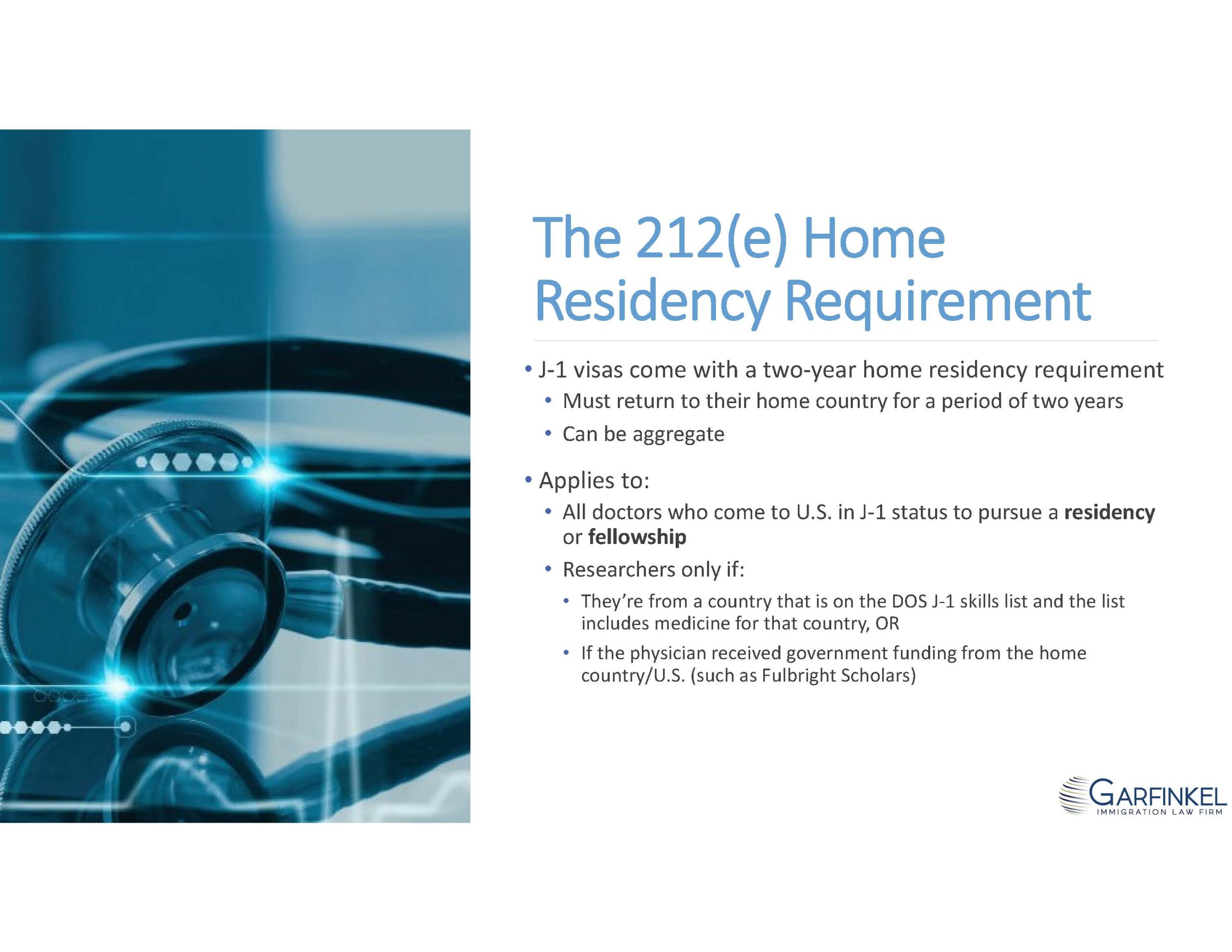 Interested Government Agency (IGA) and Conrad State 30 Waivers.  These waivers are a mechanism for bypassing the two-year home residency requirement if the physician agrees to work in a Health Professional Shortage Area (HPSA) or Medically Underserved Area (MUA).
The IGA waiver requires a U.S. government agency to request a waiver for the physician if they are actively and substantially involved in a program or activity sponsored by or of interest to such agency. The Appalachian Regional Commission, Delta Regional Authority, Department of Veterans Affairs, DHHS, and Southeast Crescent Regional Commission currently run the Federal program that regularly sponsors IGA waivers for physicians. Each agency has its own guidelines for recommending an IGA waiver, however, the common requirement is that the physician must agree to work at least 40 hours per week of primary care or specialty medicine in a HPSA or MUA for at least three years.
The Conrad State 30 program was initially created by the U.S. Congress in 1994. There are usually 30 slots available per state for physicians each government fiscal year. Some states, including North Carolina, also allocate up to 10 "flex spots." Each state determines its own rules for granting Conrad 30 Waivers, however, there are some common requirements, including:
The physician must agree to work for three years in an underserved Health Professional Shortage Area (HPSA), Medically Underserved Area (MUA) or to serve patients in underserved areas
The physician must begin work within 90 days of the waiver being granted by USCIS (or H-1B approval)
The physician must have an offer for full-time employment
The employer must demonstrate a shortage of specialists, if applicable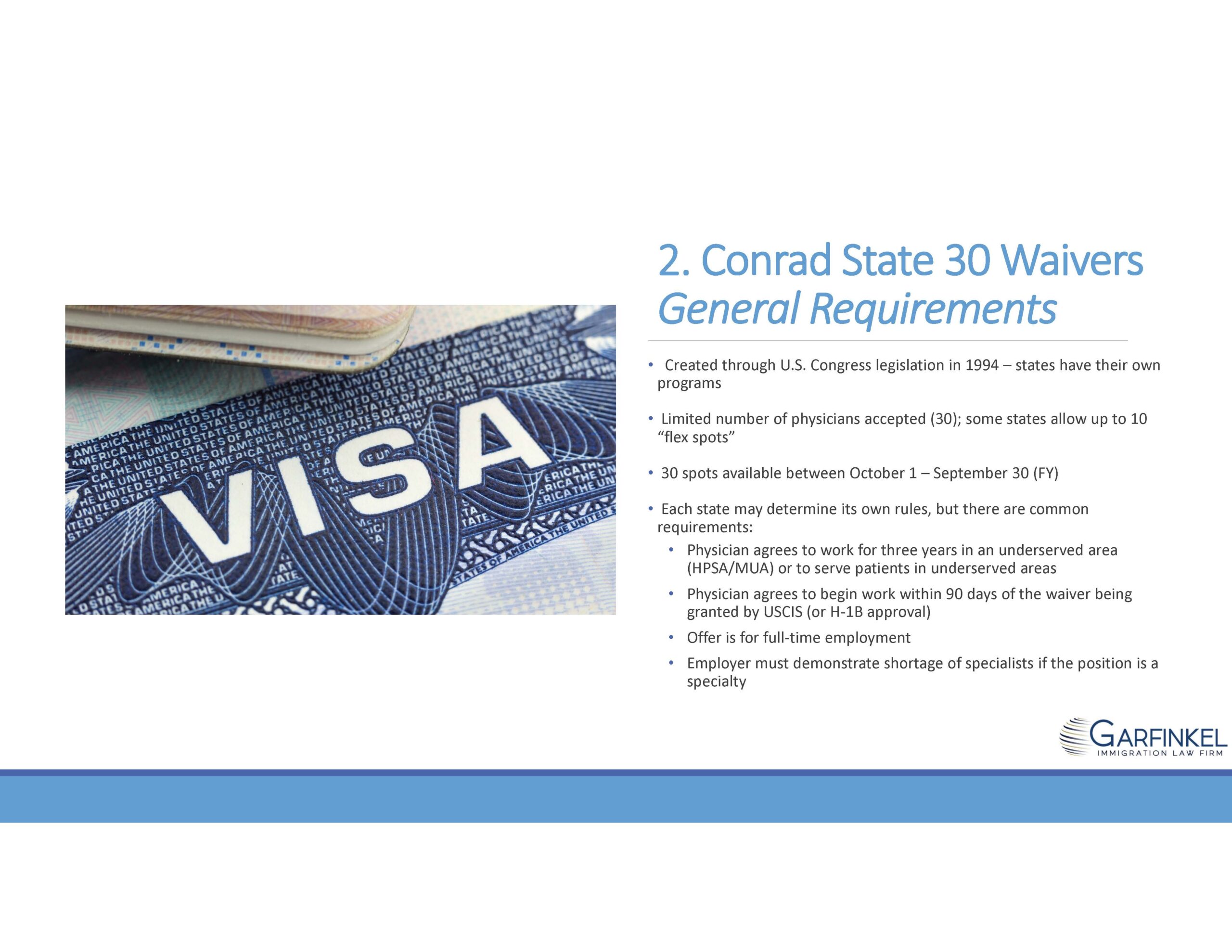 Waivers for the 212(e) Home Residency Requirement are also available based on persecution and exceptional hardship claims.
Foreign nationals must show that it is probable they will be subjected to persecution based on their race, religion or political opinion, if they returned to their home country.
Exceptional hardship waivers cannot apply to the J-1 applicant themselves. Instead, applications must demonstrate unusual and significant hardship to a U.S. citizen/legal permanent resident spouse or child if they were forced to depart the U.S. for two years. The pain of being separated from a family member is not enough to support a hardship case. United States Citizenship and Immigration Services (USCIS) generally considers the following hardships:

Economic
Medical
Political and security-related
Psychological
Sociocultural
Public policy
Please contact the attorneys at Garfinkel Immigration Law Firm to learn more about J-1 waivers or other immigration solutions for healthcare workers.
Past webinars
"Getting in the Door:" Short-term Visa Options for Healthcare Workers
"Settling in the U.S.:" Healthcare Worker Green Cards, Part 1 — Physician National Interest Waivers
"Settling in the U.S.:" Healthcare Worker Green Cards, Part 2 — Schedule A Green Cards for Nurses and PTs