Anabel Neri never thought she would get to this point when she arrived in the United States more than a decade ago.
Thanks to perseverance and hard work, along with the assistance of Garfinkel Immigration Co-Managing Partner Hannah Little, Neri overcame domestic violence, poverty and a language barrier to become a U.S. citizen. She took the Oath of Allegiance on Aug. 8, 2019.
"For me, I'm grateful 100 percent about everything," Neri said. "It was very emotional because it took me a long time. We knocked on a lot of doors to get what we needed. Being there, that day (at the citizenship ceremony), it was just awesome. I have no words to express my emotions while I was there. There are a lot of people coming from different situations, but my situation was kind of tough. (Taking the Oath of Allegiance) was just great. Very emotional, and I couldn't believe I was there after so long, but it happened."
Neri's daughter, Anahi Pena-Neri, and Little both attended the ceremony, which was held at the United States Citizenship and Immigration Services office in Charlotte. Neri said she was grateful they were there to support her.
"To have my daughter and to have Hannah there, that means it all because my daughter was with me through all this," Neri said. "Having Hannah there, she knows, like I said, how hard it was for me to knock on some doors. Some doors opened; some other ones closed. So, (she) and my daughter were the perfect people to celebrate with me there."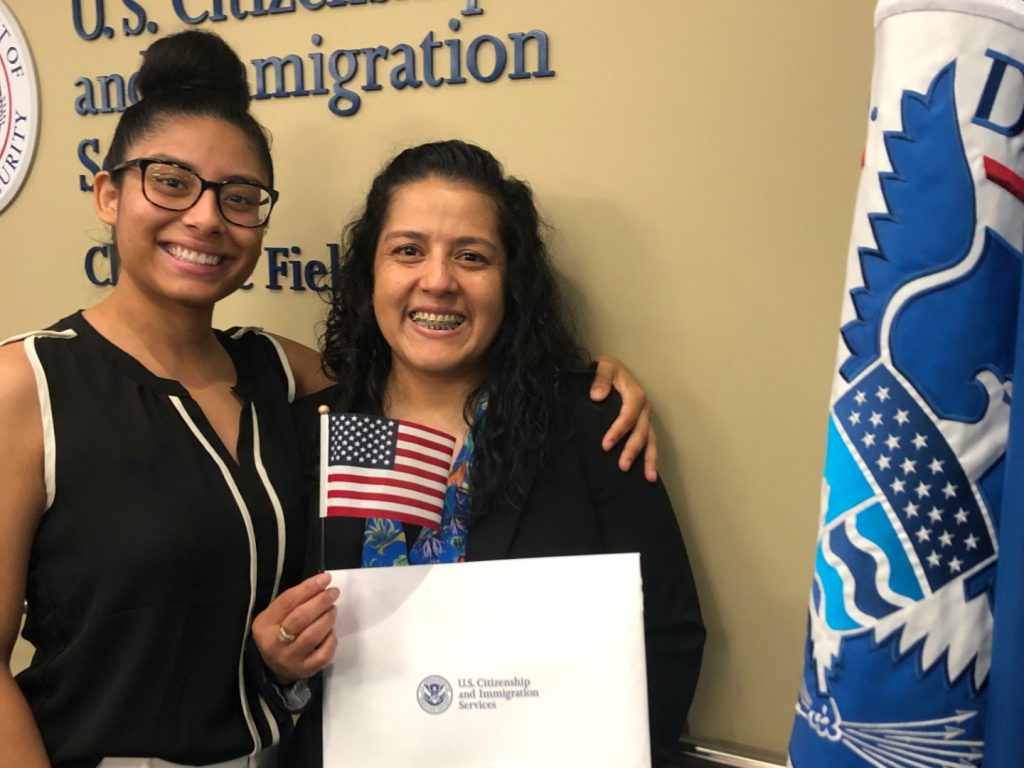 Neri has worked with Little for 12 years and been a pro bono client of Garfinkel Immigration for more than seven years.
"My experience has been great with Hannah," Neri said. "I've known her for a long time, she's known me for a long time. She has known my daughter since she was little. It has been a long journey. There is nothing for me to say other than she did a great job. All that I accomplished is because of her walking me through the process."
Neri works three jobs and is now a homeowner while Anahi is a junior at Appalachian State University in Boone, North Carolina, where she is studying political science.
"My daughter said to me 'Mom, now what is next, because you've been going with this project all my life, almost, so you've got to work on something else,'" Neri said. "She remembers when she used to be in elementary school, I'd go and get her from school, and I'd have an appointment with Hannah. She'd get off early from school, I would get off early from work and we'd eat something on the go so we could be there on time for our appointment.
"Back then, I didn't have a cellphone to follow directions, so I used to go to the library the day before and try to write directions. (Anahi) would read the directions while I was driving to get to the office. So, she has been part of all of that."
In her spare time, Neri volunteers at a local domestic violence shelter as well as her church.
"I think Anabel is the epitome of the American Dream," Little said. "She's smart, hard-working and caring. She came here with almost nothing and, because of incredible determination, now owns a home and has a daughter set to graduate college. It's an honor to have worked with her and a privilege to call her my friend."
Neri said she hopes her story inspires others.
"I came with a dream, like everybody, to work and to help my family," Neri said. "All that I did was believe in God and follow all the instructions and just try to see that there is light at the end of the tunnel. Because, going through my situation and being in a shelter, it was bad. But … now I have a brand-new house I never thought I could get. So, everything just came along to get this result. That experience, it doesn't end for some people. … If you stick on the path and follow that advice and what people around you are telling you to do, you will get to here. You will get to here."